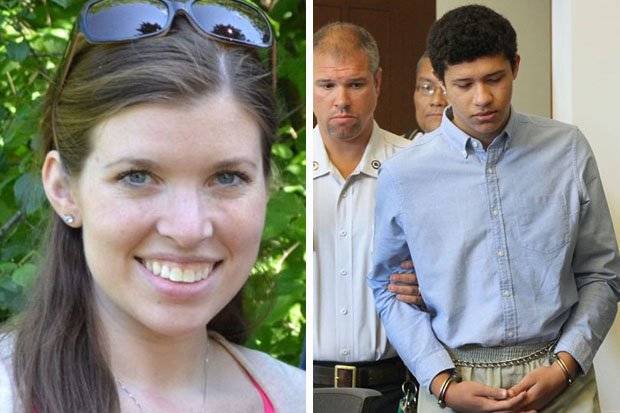 A BOY has been convicted of raping and murdering his maths teacher after she nipped out of a classroom to go to the toilet.
Philip Chism, who was 14 at the time, admitted sexually assaulting and killing 24-year-old Colleen Ritzer.
But today he was convicted of three out of four counts in relation to the attack.
The victim's mother Peggie was in tears as she embraced her family after the verdict.
Chism claimed he was mentally unstable at the time of incident at Danvers High School in Massachusetts in October 2013.
Yet the prosecutor told the court Chism was sane after planning the crime in advance.
The trial was shown chilling footage of Chism – who is now 16 – pulling up the hood on his sweatshirt, sneaking out of the class and following the teacher into the toilet.
A girl with a backpack can be seen entering the bathroom but leaving quickly, as if shocked by what she had seen or heard.
Chism then leaves the toilet, apparently carrying Colleen's bloody trousers. She had been stabbed to death with a box cutter knife.
He then dragged her body into the woods.
The whole attack lasted eleven minutes.
He was also convicted of robbery for stealing her knickers and was acquitted only of one count of aggravated rape.
That related to an allegation that he violated the body with a tree branch in the woods.
Chism claimed to have heard voices but the jury ruled he was sane.
District attorney Kate MacDougall said: "The only person who was powerless in the bathroom and in those woods was Colleen Ritzer."
He will be sentenced later but could face life in prison.
Follow
Me On Twitter &
Instagram
:
@effiongeton